explain-it animade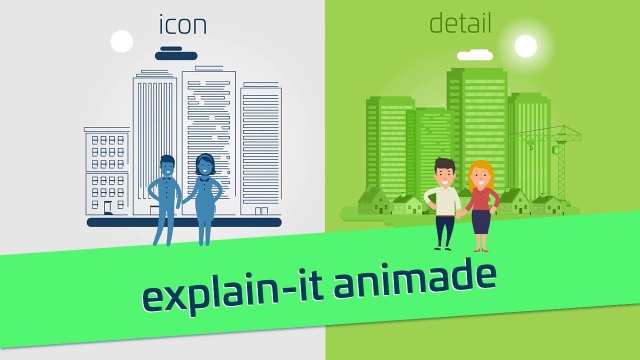 Our animated explanatory video, individually designed for you.
2D animated explanatory film in two design styles
Descriptive animations to convey themes that need explaining in an entertaining and effective way
Colours adapted to your corporate design
scroll down
explain-it animade: what is it?
explain-it animade is our 2D animated explanatory video, in which we use descriptive animations to cater for your individual requirements in terms of the content to be conveyed. You can choose between two design styles: icon and detail.
We use the

icon style

to depict abstract and complicated facts in unambiguous images that are immediately understood by the target group.
The

detail style

provides more details and thus more opportunities to appeal to the emotions and tell stories. We can also adapt the illustrations to your corporate design colours.
Our delivery date promise: your explain-it animade will be ready in just 30 working days.
---
Your explain-it animade at a transparent fixed price.
An explain-it animade costs €9,300 plus VAT
All-inclusive price for an explain-it animade explanatory film of up to two minutes. All-inclusive price means everything is included: from the briefing, through the conceptual design, illustration and animation, to the finished film with narrator and music!
---
---
Additional packages
Can be adapted to cater for every requirement - scroll through our additional packages!
We would be happy to offer advice in person: +49 (0)89 30 66 880-00
+ European language version
English, French, Italian, Spanish, Dutch
It's quite easy to be understood internationally: explain-it animade uses an English narrator to ensure that staff, customers and partners all over the world have a light-bulb moment! You can even specify particular language options such as British English or American English. Our narrators are among the best in their home countries and are, needless to say, native speakers and professionals.
+ Global language adaptation
Any other global languages and dialects
explain-it explanatory films are used worldwide in over 60 languages and dialects – from Chinese and Russian to Bengali, Latvian and Finnish. Thanks to professional narrators and translators, as well as our experience in language adaptations, you can be confident that every film feels as if it had originated in this language.
+ Sprint package
Just 20 days to a finished explain-it animade
Time is running out and an explanatory film would really enhance your presentation, trade fair appearance or website relaunch. No worries: that's what our Sprint package is for! We pull out all the stops to reduce the production time by up to ten days, but with the same standards of quality. And you get your explanatory film by the deadline!
+ Two-Plus-X package
If it needs to be a bit longer...
An explain-it animade normally lasts two minutes – as long as necessary, but as short as possible. However, there are of course situations in which two minutes are insufficient to explain a subject comprehensibly. And that's why we offer our Two-Plus-X package for each extra minute!
+ 4k package
Animated explanatory videos in unbelievable sharpness!
They offer a completely new visual experience at large presentations or trade fairs: 4k projectors able to show films in double Full HD resolution. That's truly razor-sharp. Thanks to the latest software and computer technology we are able to produce your explanatory video in this awesome resolution and quality!
Turn your explain-it handmade into an explain-it interactive!
What is explain-it interactive?
Your explain-it animade enhanced with interactive slides
Gamification elements such as quizzes and call2actions increase the motivation to learn
In-depth processing and long-term learning success by involving your target groups

+€2,000

as an additional package to your explain-it animade
---
---
This is how the production process goes for an explain-it animade:
---